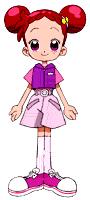 Name : DoReMi Harukaze

French name : DoReMi Harukaze

Born the : July 30th

Fairy : Dodo

Description : She's the main characther of the anime. She's really clumsy and absent-minded and she isn't very efficient as a witch, besides, her fairy is as clumsy as she is ! She doesn't really like school because she often gets bad grades. Of course, she really likes her friends and her little sister but what she likes the most on Earth is... eating great steaks ! She's also very "sensitive", and can easily fall in love with any guy, but unfortunately for her, it's never mutual. At last her favorite sentence is : "I'm the most hapiless girl in the Wooooooorld T_T" !