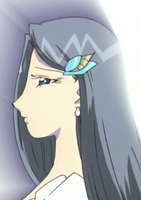 Name : Majotourbillon

French name : Ancienne Reine

Fairy : Baba

Description : Majotourbillon is the previous witches' Queen. She's the one who made the curse which separated Witch World and the Real World, which darkens the Wizards' World, and which changes the witches into frogs when they're pointed at by someone yelling "Witch !".. Why did she do that? She lived during the period when the 2 world were linked and everything went OK. She married a man... whom she saw dying in front of her.. Yes, witches grow older faster than humans ! Add to that the fact that all her friends disappeared and she never saw them again.. Her grudge made her cast that spell. In season 2, her vindictive spirit made her curse Hana-chan, whom the girls manage to save. In season 3, the girls manage to deliver her from the curse thanks to a cake that Hana-chan puts in her mouth and who reminds her of her youth. But as the curse is dispelled, Majotourbillon falls in a deep slepp, the girls will be able to talk to her in a parallel world and will eventually free her !